Parking lot of the vacant Mack Molding facility in Pownal, Vermont, formerly Warren Wire Manufacturing. Presumed source of perfluorooctanoic acid (PFOA) contamination in Pownal's water supply.
The air smells green here in this valley, like the mountains on either side. Green, like the algae-coated edges of a river walk, the smell of freshly cut clover. Like the heavy limbs reaching over railroad tracks, like the chain-linked fence choked with vine.
At the entrance, by the retention pond, two boys who look to be about my oldest daughter's age are circling each other on their bikes. What is it with kids and abandoned sites? My presence seems to have thrown them — my Subaru, the camera around my neck— perhaps making them pause, wonder if maybe they shouldn't be here after all. I'm wondering the same thing myself, my American ethic regarding private property so ingrained that it almost eclipses my right-to-know.
One of the boys raises his hand in a reluctant wave, testing me. I wave back, which somehow gives them permission to proceed. They ride by quickly, trespassing out of curiosity, perhaps, or just to get to the other side. I like to think that my reasons are a bit more principled than that.
Muscle memory leads me to the usual suspects: the loading dock, and what I assume to be part of the main production floor. It's only after I've peeked in windows that I notice the sign warning me that video surveillance is in use — a witness to my witnessing.
The site investigation has already begun: I find a monitoring well, and the asphalt is freshly crumbled from Geoprobe borings recently completed around the building. I'm careful not to go too far, not to snoop too much, but I have a pretty good hunch about what they'll find. The contaminated supply well, which serves roughly 450 people in Pownal's Fire District #2, is close by. Too close, I think — only 1,000 feet away.
One thousand feet. What is this distance, really? Not quite the length of three football fields. A solid golf drive by a pro. One thousand feet is roughly the length of a soapbox derby race, something else whose outcome appears to depend upon gravity and luck.
If you Google "1,000 feet" you'll find links to the 1,000-foot rule, the geography of punishment for registered sex offenders. In many communities, one thousand feet is the minimum distance a molester must live from a school, park, or day care center — a policy the merits of which I certainly don't intend to debate here. But one wonders… is distance is the only factor? Is distance is the only thing to fix?
Here in Pownal, one thousand feet is the distance between a Teflon site and a contaminated well. One thousand feet is all it took for 450 people to be exposed. A lot can happen in time and space.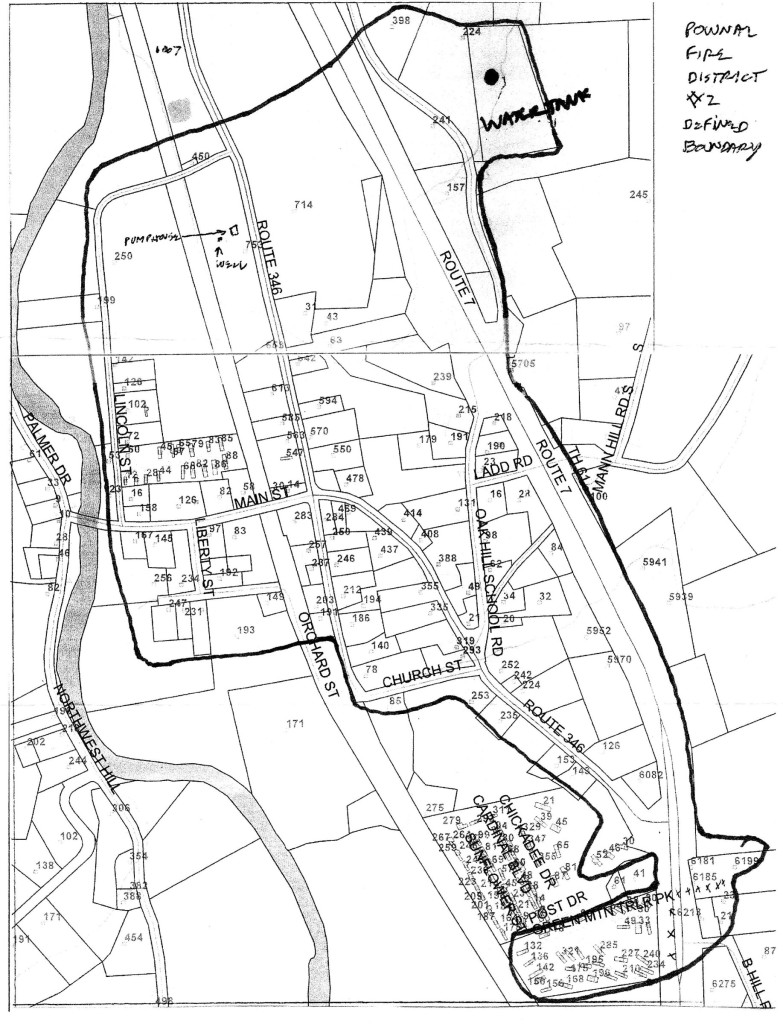 Map of Pownal Fire District #2. Supply well is located in northwest quadrant, roughly 1,000 feet from the former Warren Wire Manufacturing facility located on the corner of Lincoln Street and Route 346. The facility's retention pond is indicated on the map. Source: WCAX.com